Fiber Optics and Custom Solutions
< Fiber Splicing > Patent Design
Universal Mechanical Splice (No Tool)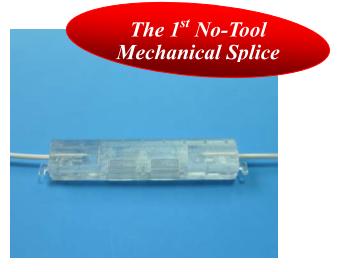 With BroField patent, BroField Mechanical Splice was designed for splicing any 250 to 900 fibers. The tool function was built in Mechanical Splice so no additional tool is required for 900/900um or 900/250um splice. You can also use Economy Type with Tool for cost effective.
Using V groove technology, it requires no epoxy. With transparent body, the splice result can be seen by Fiber Checker immediately. It has mean insertion loss 0.1dB and installation time of 30 seconds.
This is an ideal solution, either for outside plant or inside a building.
Features:
․No Epoxy required
․No Tool or Jig required
․Transparent body for immediate connecting confirmation
․Universal for 250 or 900 um Fibers
․30 seconds for connecting
․Mean Insertion Loss 0.1 dB
․Releasable after Connecting
Specifications
| | |
| --- | --- |
| Fiber Size | 250 or 900 um |
| Assemble Time | 30 seconds (after preparing fiber ends) |
| Mean Insertion Loss | 0.1 dB |
| Return Loss (dB), Typical | -50 |
| Pull Strength (N), Typical | 5N |
| Operating Temperature (℃) | -40 ~ +70 |
| Materials | Engineering Plastics & Index matching gel |
| Dimension, LxWxH (mm) | 38 x 3.8 x 6.5 |
Ordering Information:
| | | | |
| --- | --- | --- | --- |
| Part number | Description | Splicing Fibers | Tool is |
| MSP-21 | Mechanical Splice for Optical Fiber (No Tool) | 900/900; 250/900 | Optional |
| MSP-31 | Mechanical Splice for Optical Fiber (Economy) | 900/900; 250/900; 250/250 | Must |
| MST-25 | Tool for Mechanical Splice | NA | NA |
Contact Person: Frank Huang 0988-238-989
Email: frank88.huang@hotmail.com