Fiber Optics and Custom Solutions
Alignment & Bonding Workstation for PLC Splitters
BroField's Alignment & Bonding Workstation provides semi-auto alignment & bonding in PLC chip based component manufacturing. With highest precision, flexibility, ease of use capability, it has been qualified in numerous high throughput production environments. The precision of Alignment & Bonding Workstation accommodates most demanding alignment & bonding processes in PLC Splitter production with economic CoO (Cost of Ownership).
Alignment & Bonding Control Unit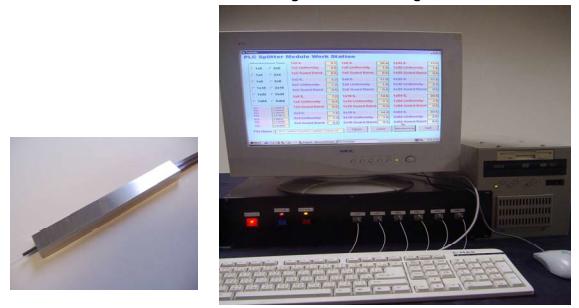 Ordering information:
| | |
| --- | --- |
| Model. AB-900A | Alignment & Bonding Workstation (with Control Unit) for PLC Splitters |
Comparison with other vendors:
Vendor

BroField

Others

Production time (ex.1x32 PLC/ea)**

5 min.

5 min

Type of PLC

Any

1xN & 2xN

Only 1 type

(Need vendor's support for change)

Compatible with any Chip or Fiber Array from different suppliers?

Yes

No(Set for 1 source only)

Easy to train operators?

Yes (high-school educated level)

No

(Bachelors degree level)

Price

Low

High

Cost for extending production

Low

High

Maintenance Cost

Low

High
** The time for pre-work and UV curing time is excluded and is based on well trained operators.
Contact Person : Frank Huang 0988-238-989
Email : frank88.huang@hotmail.com