USB 2.0 EXTERNAL GRAPHICS CARD WITH DVI INTERFACE

2nd Display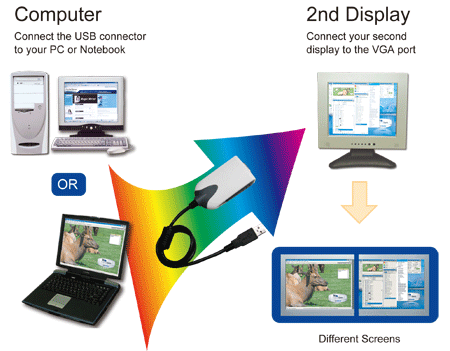 Multi Display

INTRODUCTION
Thank you for purchased the USB 2.0 DVI-I ADAPTER. The USB 2.0 DVI-I
Adapter enables you to connect one or multiple display devices (CRT/LCD monitor,
projector) to your desktop or notebook PC. The connected display can act as
mirrored or extended desktop of the main display on your PC. The flexibility of the
common USB 2.0 technology saves the need to open the computer or struggling
with compatibility issues related to the VGA card.
USB-DVI Display Adapter, the amazing solution that allows you to attach additional display to PC or laptop without annoying of taking your computer apart. You can effectively double your working space through USB 2.0 port. Primary, extended, mirror and rotation modes are available for your preference for productive job.
Do not let your old VGA monitor cover with dust and lie in garage. No matter you want to attach VGA interface monitor or add a monitor that is with latest DVI technology, just simply hook up the connector and plug the USB-DVI display adaptor into an available USB port on your PC. You have your desktop expanded!
FEATURES
Design for display devices connecting to PC/Laptop

Compliant with USB 2.0 specifications

Plug-and-Play compliant

Supports Suspend and Hibernation modes

Support Function:

Display modes: Primary, Extended , Mirror

Display Rotation:

0°,

90°, 180°, 270°

Resolution up to 1680 x1050

Compact design

Window 2000/ XP/ VISTA compatible
It can support the LCD or CRT monitor; it can attach the DVI interface LCD or CRT monitor and
it supports five kinds of selections, Primary, Extended, Off, Mirror and Rotation by "UD" icon.
"Primary" Mode
The system's main graphics adapter will automatically switch to act as the
secondary graphics adapter and the main screen will now work as the extended
desktop. The monitor connected to the USB 2.0 DVI-I Adapter will now act as the
primary Windows desktop. Please be advised that some display utility and drivers
that shipped with certain AGP and built-in display adapters may prevent this option
from working on some systems. You can disable the other utility program (usually
found in the same toolbar located on the bottom right hand corner) to make this
function work properly.
"Extended" Mode (Default)
By default, the monitor connected to USB 2.0 DVI-I Adapter will work as,
"Extended Desktop" which extends the primary Windows desktop of your system.
You can change the relative position of this extended desktop under the Display
Properties.
"Mirror" Mode
By setting this mode, the Windows desktop will be mirrored/replicated to the
secondary CRT/LCD monitor. The screen resolution setting on the secondary
monitor will follow the primary screen's resolution. For example, if the primary
resolution is 1024x768x32bit, and the secondary monitor's resolution will be the
same. But if the selected resolution setting is not supported by the primary screen,
a warning dialogue box will be displayed and the suggested screen resolution will
be shown.
"Rotation" Mode
This feature enables setting the orientation of the secondary CRT/LCD monitor. Several options such as "0
degrees", "90 degrees", "180 " or "270 degrees" are available under the Extended or Primary mode.
"OFF" Mode This option disables the USB 2.0 DVI-I Adapter on the system.
SUPPORTED COMMON DISPLAY RESOLUTION:
| | | | |
| --- | --- | --- | --- |
| Aspect | Ratio Resolution | VGA | DVI |
| 16:10 | 1920 * 1200 | 16 | N/A |
| 16:9 | 1920 * 1080 | 16 | N/A |
| 16:10 | 1680 * 1050 | 16, 32 | 16, 32 |
| 16:10 | 1440 * 900 | 16, 32 | 16, 32 |
| 16:10 | 1280 * 800 | 16, 32 | 16, 32 |
| 15:9 | 1280 * 768 | 16, 32 | 16, 32 |
| 5:4 | 1280 * 1024 | 16, 32 | 16, 32 |
| 4:30 | 1600 * 1200 | 16, 32 | 16, 32 |
| 4:30 | 1400 * 1050 | 16, 32 | 16, 32 |
| 4:30 | 1280 * 960 | 16, 32 | 16, 32 |
| 4:30 | 1152 * 864 | 16, 32 | 16, 32 |
| 4:30 | 1024 * 768 | 16, 32 | 16, 32 |
| 4:30 | 800 * 600 | 16, 32 | 16, 32 |
Q&A
___________________________________________________________________________
This section describes the common Q&A regarding to the installation or operation of
the USB 2.0 DVI-I Adapter.
Q: Why can't I make the USB 2.0 DVI-I Adapter the primary display?
A: Some video cards ship their product with a utility that prevent other video cards
from being set as the primary card. Check the bottom right hand corner taskbar for
the utility. Disable the utility before switching our adapter to be the primary display.
Q: Why won't my DVD player work when I move it over to the extended display?
A: Some DVD playback software packages do not support playing on a second
display adapter of any kind. You may try to open the program in the secondary
display first before playing the DVD.
Q: How come my video will not play on Media Player if I move it over to the
extended desktop?
A: Check that you have moved the Media Player window completely over to the
second screen.
Q: Why does my mouse not move pass the right side of the screen as it should on
extended desktop?
A: Check the display settings and make sure that your display number '2' is on the
right side of display number '1'. You can rearrange how Windows treats each display
in relation to each other in the Display Properties Settings.
Q: There are lines running horizontally up and down my screen.
A: This is due to a low refresh rate setting. You can change this in the Display
Properties Settings Advanced Monitor. Make sure you select the USB 2.0 Graphics
Device first and not set the refresh rate higher than what your monitor can support.
This may damage your monitor. You can also try to reset/refresh/resynchronize your
monitor.
Q: Direct 3D does not work?
A: This is a current limitation of the adapter. Please check for driver updates in the
future to add support for this. If your application requires this, please use the main
display adapter.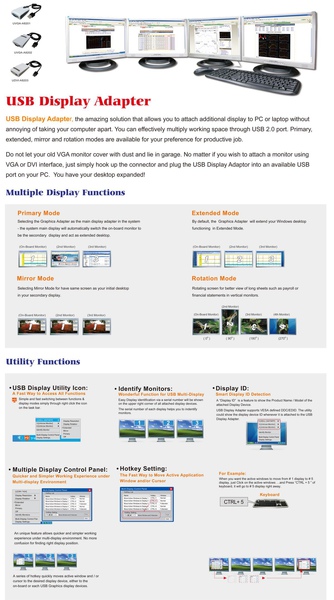 Contact Person: Frank Huang
Mobile: +886-988-238-989
Email: frank88.huang@gmail.com