Multi-Channel Long Distance Coaxial (MCLDC)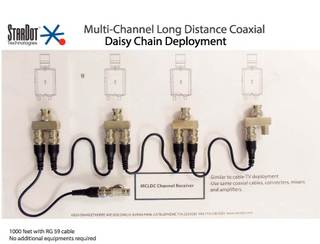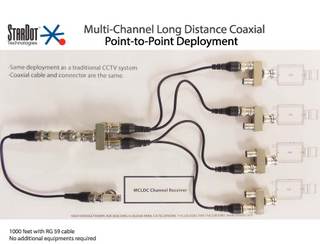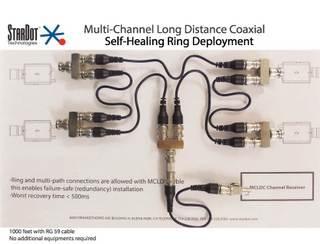 MCLDC - also known as Digital CCTV
Close-Circuit Television sends analog signals that are limited in resolution (refer to the comic strip to the left for details). MCLDC is another way to have a reliable Closed Circuit environment while achieving high megapixel resolutions. MCLDC is not IP and it is not HD-SDI. Its intent is simple – use the same connectivity methods as analog CCTV, but utilize a channel receiver to provide the functions of an IP camera. This is the perfect solution to retro-fit any existing CCTV camera to multi-megapixel. It is what CCTV in security environments should have evolved into; CCTV-> Digital CCTV! Your traditional television has switched over to high resolution Digital Television. It's time your security cameras caught up.
Digital Television Broadcasting Standard for Surveillance
Close-Circuit Television technology has come a long way since the debut of the first German CCTV system in 1942. The intent of a close-circuit video surveillance system is to be separate from all other networks, achieving a safe and isolated installation environment. As such, these systems are famous for their reliability. A CCTV camera mounted on a wall will likely still put out perfect signals 15 years later.
IP cameras on the other hand are known for going down due to network interface problems. They are complex machines using a software protocol to transmit, unlike the dedicated coax connections of CCTV systems. And they're difficult to set up, requiring management of IP addresses. The advantage they've had until now is the ability to stream multi-megapixel images in the complex H.264 format which provides excellent storability.
The latest Digital Broadcasting standard has also now added the H.264 compression method for delivering digital content to your home. And the bandwidth each Digital Television channel provides allows camera resolutions and frame rates higher than even those of IP cameras. As a result, the Digital Broadcasting standard is a proven technology which can also be used for your security surveillance needs.
IP and HD-SDI vs. MCLDC
IP cameras are a derivative of digital cameras, which became commercially available around 1994. They are a result of the technology boom of the late 90s, where having a CPU / ROM / RAM and stable Linux operating system made a lot of sense for delivering content through the internet. The original thinking was that such cameras could be used as remote viewing devices, whether the remote location was across an ocean or at the other end of a short Cat5 run. Initially they functioned more as web cameras, but the security industry quickly adopted them because of the need for higher resolution images. As they evolved they added more advanced compression methods, going from MJPEG to MPEG2, MPEG4, and finally H.264. The reduction in bandwidth allowed streaming in HD sizes at frame rates of 25FPS or above.
So why use a Digital Television broadcasting standard, when there are already other usable transmission methods?
Internet Protocol (IP) requires acknowledgement packets from internet devices. This means an IP camera is "talking", to Power-Over-Ethernet (POE) switches, then the switches act as intermediate devices in a two way communication to Network Video Recording Software (NVR) on a destination computer. There could even be more than one routing device in the path. This two way communication path requires correct device addressing, and is vulnerable to stoppage due to network collisions, routing or buffering problems. In a well maintained IT system, where security surveillance installations are isolated from primary network traffic, operation can be relatively "trouble-free",. However, this is rarely the case and it's common to see skipped frame sequences or complete stoppage requiring a few minutes to recover. Security cameras have become an IT issue, rather than just a simple connection which needs to be checked if anything goes wrong. Traditional CCTV cameras do not require much maintenance, being simple machines which can only send images and never have a reason to stop. If the coax is hooked up, the images stream at a constant rate. In the modern security environment, the main problems for CCTV cameras begin at the far end, where the analog signals are digitized and converted to IP streams. They then become vulnerable to the same stoppage issues plaguing IP cameras, although the final run as IP devices is typically short enough to eliminate most routing issues.
As the security industry matured in its use of IP cameras, it became apparent that one original benefit of IP cameras, to access them remotely through the internet, was not all that useful. A situation where cameras had to be located all over the world and then gathered together in one single recording center was not common. Also, the idea that the camera could be a complete web server and support multiple viewers was replaced by having NVR software re-serve image streams. By this method, the remote viewers could play any part of the timeline, live or recorded. Security issues were also reduced by using the IP protocol only as a local method of attachment to NVR computers, which are far more able to re-serve streams to multiple viewers with less security issues. Any outside connection to the internet came only to the NVR computer, with the cameras supplying streams on their own private network.
Security camera networks using IP cameras became imitators of the original closed circuit design, but now using a complex and fragile transmission protocol that had never provided all of the original benefits envisioned for it. It was simply faster; that was the main benefit.
When it became obvious that what was really needed was a reliable closed circuit design capable of streaming megapixel images, the High Definition Serial Digital Interface evolved. But part of its method for achieving a high data rate was based on sending "uncompressed", data, since the high correlation of localized pixels allows the use of very simple compression methods inside the relatively simple transmitter chip. This also allowed creation of cheaper camera devices, which no longer had to support the complex H.264 compression method. Additionally the lack of need for frame buffering in the camera reduced the latency of images, although at the receiving end the latency is often restored during compression. And while solving the problem of skipping images, this type of stream requires expensive capture resources on the other end to do the actual compression, since it's not practical to store the uncompressed stream. It also puts a fairly low 2MP limit on the image resolution. To solve this, the makers of such chips are producing faster devices, although they will soon hit a hard limit if they intend to continue to work over coax using a simple differential signal.
While all this was going on, Digital Television became the standard in many parts of the world. It evolved from something even older; cable television. Using very complex waveforms transmitting at lower bit rates on as many as 1700 paths per channel, this robust Digital Television standard includes true error recovery, allowing reproduction of as much as 4.2% of a damaged stream, something neither of the other protocols commonly do at this time. It was also designed to bounce of buildings and survive the phase shift of signals reaching a Digital Television antenna in a modern high rise city. As a transmission format, it's truly a marvel of excellent design. By comparison, the IP and HD-SDI protocols are primitive.
As Digital Television caught on, a large number of manufacturers produced equipment to use with it, equipment which can also be used in the security industry. Rather than being a proprietary protocol limited to one main application, it's a truly open design capable of combinations yet undiscovered. And while there are currently four main differing standards around the world, it's easy to acquire equipment for the oldest and most widespread of these standards, DVB-T. As a dedicated transmission path, the Digital Television standard allows devices to send data unrestricted by the burden of IP addressing. The transmitting devices can also be much simpler than IP camera devices, not having a need for the CPU and operating system. Additionally, being designed to carry multiple high definition channels along one final connection from an antenna, they can also carry multiple camera feeds as "channels", on coaxial cabling, reducing site complexity and cost. And while the DVB-T standard was made for transmission through the air, it works just fine in coaxial cabling. It's an ideal design for high resolution security cameras, which has been overlooked until now.
MCLDC is a feature optimized version of Digital Television made just for the security camera industry, currently using the DVB-T standard. And while selecting features of this protocol which are most suitable for the security industry, it is fully DVB-T compliant, meaning it will work with a whole range of TV tuner devices available from hundreds of manufacturers. Users are not restricted to purchasing equipment designed only for the security industry. A low cost DVB-T monitor can be added with a simple BNC splitter. The presence of the monitor does not interfere with the NVR's stream, just like one TV receiving Digital Television through the air does not interfere with the TV next door.
As a technological development in the security camera industry, the suitability of Digital Television is rather ironic. It's like a return to the original ancient CCTV design, and itself qualifies to be called CCTV since the system is in fact a closed one with no exposure to complex IP network issues. Frame skipping problems are eliminated without forcing the expensive compression off to the NVR device or its receiver box, as HD-SDI does. And cameras using Digital Television standards do not require the expensive operating system components. When implemented using custom chips, the entire camera can be as simple as a sensor and a single chip, plus a modest power supply. Over time, this design will become as common and inexpensive as CCTV cameras have become, while providing resolutions exceeding those possible with an IP connection. A single coaxial cable using this protocol has more bandwidth potential than a 1Gb Ethernet connection, and can travel long distances compared to IP or HD-SDI. Additionally, retro-fitting existing analog systems is possible without replacement of the cabling.
Flexibility in connection topology
Both IP and HD-SDI require a point to point connection. IP cameras require one camera to be connected to at least to one open switch port. HD-SDI cameras require a point to point connection from the camera to an expensive receiving device that will do the compression, because the digital video of HD-SDI cameras is not compressed.
MCLDC cameras do not suffer from this limitation, and allow various connection topologies. MCLDC can connect like traditional CCTV as point to point, or daisy chaining can be used with simple BNC couplers and cameras set to operate on different Digital Television "channels",. Loops can even be formed, to give immunity to broken cables as a fail-safe measure. Multiple receiving devices can examine and record the stream. Adding a new camera will often be as simple as inserting a T connector and hooking up a camera on a non-conflicting channel.
Longer Distance
CCTV cameras experience cable impedance issues, caused by the simple nature of the electrical signals they send. Working from a voltage level, the signal degrades the further it travels. Typically amplification, conversion, or special equipment is necessary in order to run longer distances.
MCLDC cameras also work with the ordinary RG59 or RG6 coaxial cabling used by CCTV cameras, but achieve distances of 1000 feet or further without any special equipment. Runs of as much as 2000 feet are not difficult to achieve. How is this possible?
MCLDC technology uses complex modulated signals spread across many frequencies per camera, at lower data rates. Essentially, it's like transmitting the Digital Television signal through a cable, instead of through the air. And while Digital Television air transmissions can extend for miles, this format also works well in coaxial cabling for thousands of feet, eliminating FCC issues with wireless transmission. The signal never escapes from the cable unless an antenna is deliberately inserted. And while MCLDC's reliability is partly based on the use of thousands of lower speed signals to carry a single high def stream, this amazing design doesn't stop there. It also allows multiple "channels", per cable, just as your TV can receive multiple Digital Television channels from a single antenna (usually hidden inside the TV). Current MCLDC designs allow up to 16 high megapixel streams through a single coaxial cable of 1000 feet. It's also a self-healing format, which includes special packets of information that allow reconstruction of broken portions of the stream.
Single Home-Run
MCLDC uses modulated waveforms restricted to 5-8MHz channels on the total available 900MHz Digital Television frequency range. Within each channel, 1700-6000 different frequencies are used to carry the information for a single camera stream. The channel receiver converts the complex channel signals into IP or USB streams at the NVR side, restoring the original camera stream. Plug in cards for up to 16 cameras from a single BNC connection are available through independent manufacturers as "TV Tuner Cards", and devices for a single channel stream fit into a tiny USB plug in device. StarDot offers their own receiving device which supports 4 channels, expandable up to 16 channels within one cable run by using four channel receivers.
Installations can benefit from this ability to share existing or new cable with the use of simple analog video BNC splitters, which are passive devices requiring no power. And from the point of view of NVR recording software, MCLDC looks the same as analog video capture boxes serving via IP. There are no complex integration issues requiring special drivers, although ultimately the integration by NVR companies of non-IP capture devices such as plug in TV tuner cards will further simplify the connection path. As a new technology, it has a lot of room to grow.
For new installations, you can choose to install by daisy chaining the cameras, or with loops via BNC couplers. For existing installations that have a need for higher resolution images, a common CCTV camera can be replaced with a multi-megapixel MCLDC camera, with the analog capture box on the receiving end replaced by an MCLDC receiver box, or any available DVB-T receiver.
Labor Cost
StarDot has been at the forefront of developing digital imaging technology throughout the years, starting with their first true digital camera in 1994. They were one of the first to add removable digital media to a portable camera. Around the same time they created what might have been the first digital security camera network, using a multiplexing box talking to tethered cameras via an old NCR network protocol. As Ethernet became standard in computers, StarDot already had an IP camera offering.
MCLDC cameras transmitting on digital video broadcasting signals are another industry first. A key benefit of this new design will be a reduction in installation complexity and cost, with an increase in overall reliability. An IT professional will no longer be required to solve IP addressing issues, and cabling runs will cost less and be easier to install where multiple cameras are involved. Bottlenecks in the IP path are eliminated, and security personnel can be used to find a problem with a downed camera, since this will usually be a simple power or coax connection issue.
IP cameras will continue to be suitable for many situations, but over time MCLDC will further reduce in cost below that of IP cameras, since MCLDC does not require an expensive CPU, boot ROM, or dram memory for the operating system. These components, necessary for IP cameras, are differing silicon technologies and so cannot currently be integrated into a single chip. MCLDC can, and eventually single chip multi-megapixel camera solutions will be widely available, making MCLDC cameras a commodity item similar to what CCTV cameras rapidly became.
It's difficult to predict how MCLDC cameras will evolve, because they can be used with existing equipment from hundreds of manufacturers. Short hops through the air can be achieved with very low cost antennas, allowing solutions to unique situations where cable cannot be used. The MCLDC signal doesn't only work on coaxial cabling, and it's likely that multiple full spectrum feeds can be inserted into Cat5 cable, with as many as 64 cameras streaming high resolution images through a single common Ethernet cable. It's also possible to send these signals through existing building power wiring, although devices to do this are still in the planning stages and FCC issues have yet to be worked out.
Because the technology is fully compliant with the DVB-T standard, it's an open system in which any IP camera maker can participate. The race is on, and the name of the game will now switch from higher resolutions, to lowering costs for installers. But the use of MCLDC technology won't require the user to give up anything, as the bandwidth of a single MCLDC channel is functionally equivalent to a dedicated 100Mb Ethernet stream, and the transmission format is the industry standard H.264, with no need for compression on the receiving end.
The format is also suitable for lower resolution CCD sensors, which means low light performance will also be available as more camera manufacturers join this new technology. At the current time, StarDot's offerings include 5MP devices in bullet, box, and dome form, all of which stream 1080p. The next development will add 10MP sensors streaming at unheard of rates, and 3MP WDR sensors.
CCTV installation is about reliability, and ease of installation. Throughout the years of marketing and selling IP cameras, StarDot has learned that a lot of support issues are typically related to IT issues such as losing the IP camera video stream because a router was reset from power failure, or poor frame rates and frame skipping caused by office network traffic. There are situations where IP camera installation makes the most sense, but for most installations MCLDC is a better technology.
We designed MCLDC with the system integrator in mind. The MCLDC camera requires no additional setup other than selection of a channel that isn't being used on the coaxial cable it's attached to. This coaxial connection topology allows the most flexibility in system design for various environment constraints.
Re-use your existing coaxial cabling
At least 50% of security installations to date (2013) are still using coaxial cabling for the majority of their security cameras. How about existing coaxial cables? Why not re-use the existing cables for retro-fit purposes when higher resolution streams are required? A good example is a high security environment such as a prison, which has existing and perhaps ancient CCTV systems, and a desire to insert higher resolution cameras at key locations where multiple people can interact. Switching a CCTV camera for an MCLDC camera can take as little as 5 minutes when the existing cabling is re-used.
A common question we're asked, when using existing wiring for MCLDC, relates to problems installers have with analog video. Distance and noise from adjacent motors and transformers commonly plague CCTV installations. But these problems do not affect MCLDC, which runs at multiple higher frequencies than those affecting CCTV signals, and has built in error correction. You can in fact use your old coaxial cabling, and forget about what problems you've had regarding CCTV cameras.
For end-users, operation is the number one concern - there are often vital parts of an installation that cannot be shut down for new cabling to be pulled. MCLDC cameras can replace CCTV cameras without shutting down any portion of the camera network, besides the actual camera being replaced. A casino environment can upgrade a camera without disrupting any of the other camera feeds.
So why not re-use the existing CCTV infrastructure and get full HD resolution or beyond with MCLDC technology? The installation is made simple, no need to rewire any existing coaxial cables - just plug in the camera on the BNC connector, supply 24VAC or 12VDC power, and add a channel receiver box to receive the digital video signals at the NVR side. After that, adding more cameras becomes as simple as inserting a T connector and a new camera.
Reusing existing cables shortens the amount of time to install, and it's also green!!
Contact Person: Frank Huang Cell Phone: +886-988-238989
Email: frank88.huang@hotmail.com