CCTV over UTP Solution
Benefits of structured UTP cabling include:
 Better interference rejection than coax
 UTP is less expensive than dedicated coax or fiber
 Color-coded cabling
 Unlimited bend radius
 Physically smaller than coax
 Easiest media to install and reconfigure
 UTP is extremely easy to terminate
Installation:
Simply find a spare pair of Cat.5 cable near the camera to attach the video transceiver as Transmitter and cross
connect through the building(s) to where you plan to put your monitor, Quad, multiplexed, DVR to attach the other
video transceiver as Receiver.

Structured Cabling Solution: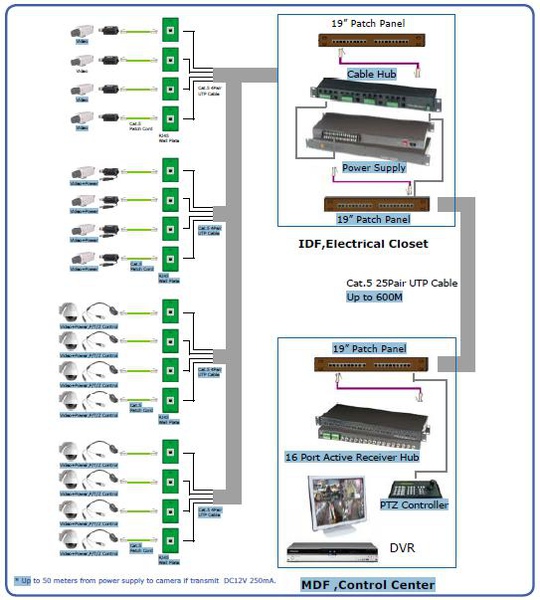 Video Transceiver BNC/Terminal block
8201-01001
Features:
 Transmit a full motion monochrome video signal up to 600 meters, color video signal up to 400 meters
 Passive, No power required
 Eliminate Coaxial Cable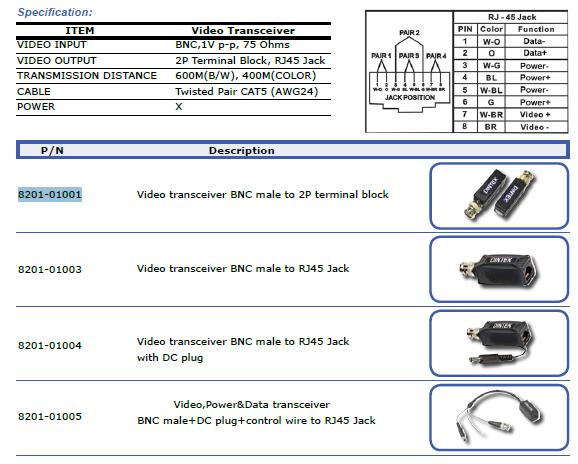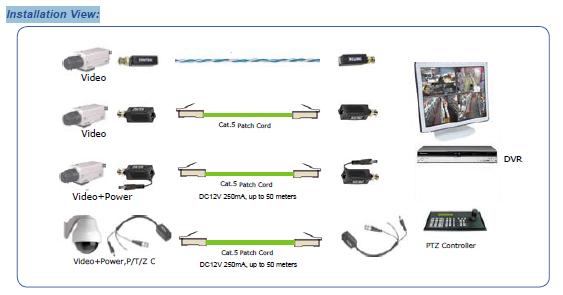 Video & Audio Transceiver: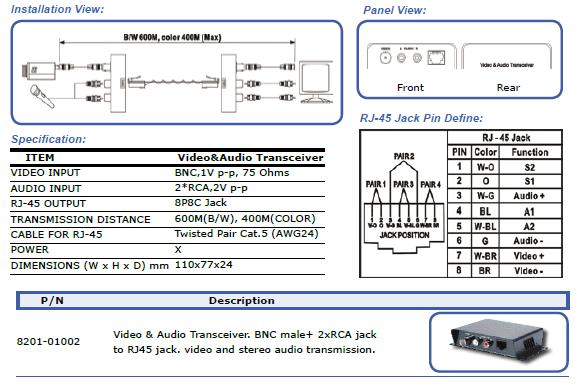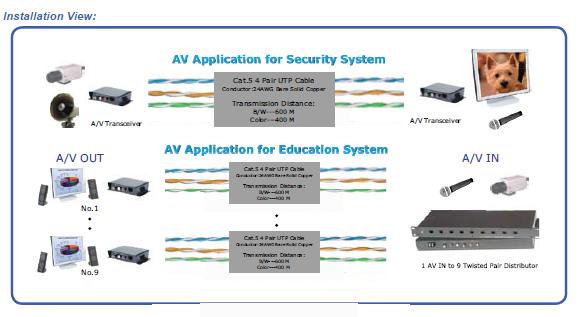 4 Channel Video Transceiver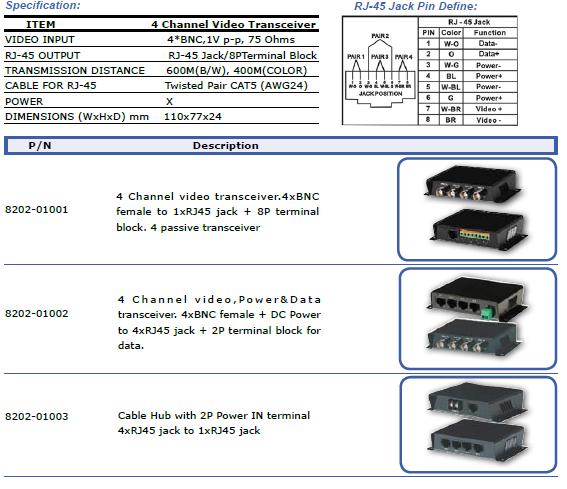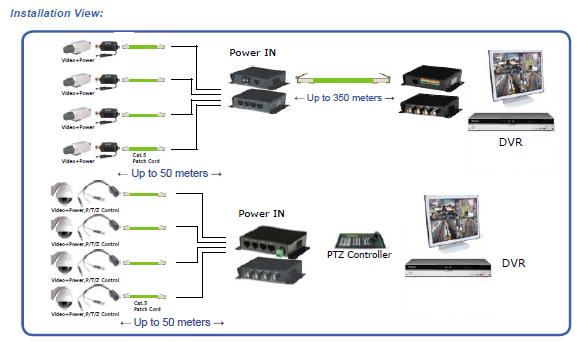 Active Video Twisted Pair Transmission
P/N Description
Specification: Panel View:
Video twisted pair transmission. BNC
female to 4P terminal block. Including
active transmitter & receiver.
Features:
 Transmit a full motion color or monochrome video signal and data signal (RS422, RS485),
Color range 1500 meters, B/W video signal up to 2400 meters.
 Three position range switch for gain select on Transmitter.
 Five position distance range switch on Receiver.
 System is integrated with alarm sensor (PIR, Magnetic, etc.) or data (Pan, Tilt, Zoom).
 Built in transient protection and ground lifting, damaging voltage spike problems are eliminated.
 Red LED: Power on / off . Green LED: Video receive/loss.
 Power supply included.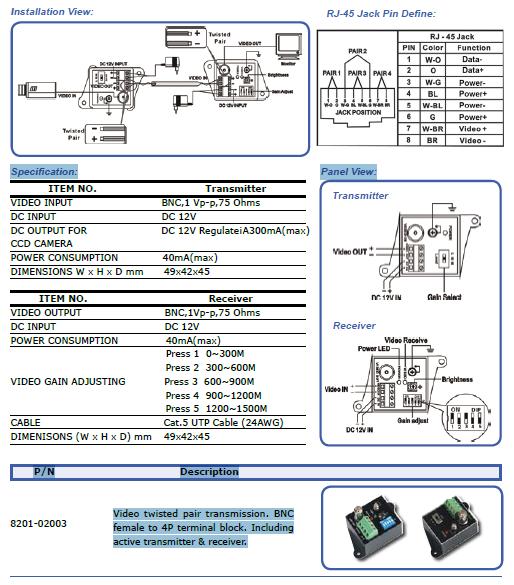 19"Rack Mount Panels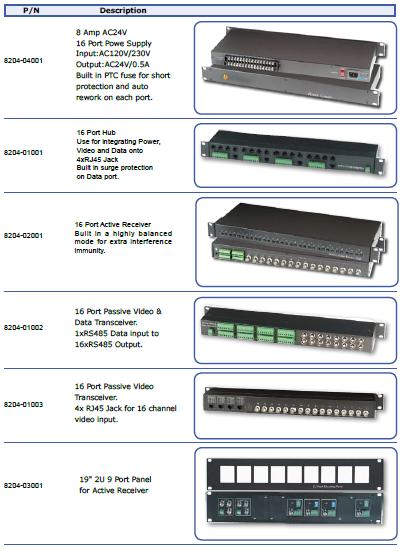 Surge protection Device
 Performs a different function than grounding requirements.
 Protects equipment from high voltage surges from nearby lightning strikes.
 Two stage protection: under 1ns-90V, over 10ns-12V.
 Wide range of applications: CCTV/CATV system, Antenna of Television, FM receivers, video
camera, monitors, multiplexers & Quad processor, VCR...etc.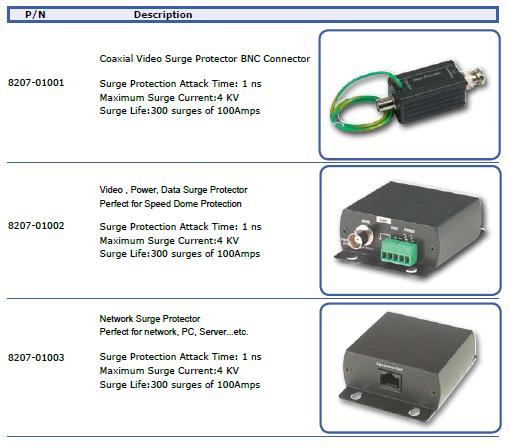 Outdoor Use CAT 5e UTP 4 Pairs Twisted Pair Cable

RG59/U Coaxial Cable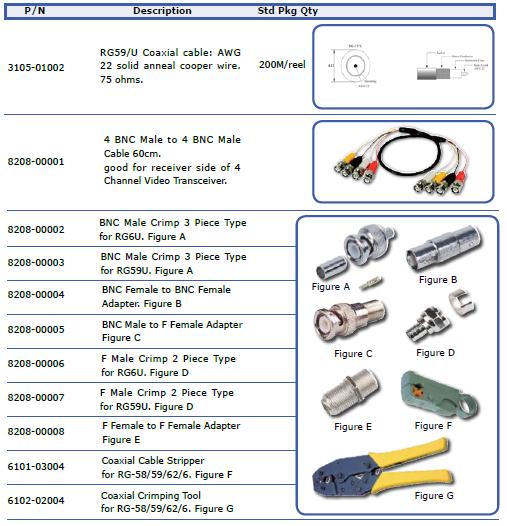 CCTV over Fiber Solution
The 1CH Video/Data/Audio Fiber Converter transmission system is specifically designed for surveillance
systems requiring seamless transmission over long distances. The most common applications are
premise, factory, airport,freeway and tunnel.
Features:
Video/Data/Audio Fiber Converter
   Digitally encode
   Auto Gain Control (AGC)
   One channel video and one duplex data and one duplex stereo audio
   Support of one bi-directional remote alarm channel
   Transmission over one fiber
   Multimode Fiber up to 5km
   Singlemoed up to 40km(100 km is available)
   LED indications for video, power, data, fiber
   Industrial grade design
   Standalone or Slide-in two versions
(Slide-in version is used by 3.5U Converter Chassis)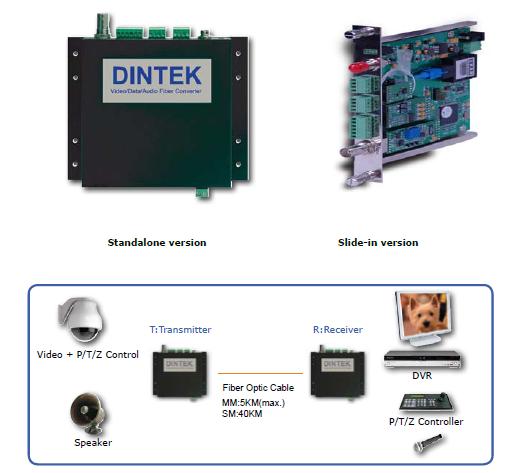 Specification:
Product:
Model 1CH Video/Data/Audio Fiber Converter
Protocol PAL, NTSC
Dimensions 119×121×22 mm (D×W×H)
Power 12VDC or 90~240VAC
LED indicators Power, Optical signal, Video, Data, Alarm

Connector and cables:
Twisted Pair/STP RJ-45, Category 5 (EIA/TIA 568)
Fiber connectors ST or FC
Single mode fiber 9/125 μm(1310nm or 1550nm)
Multimode fiber 50,62.5/125μm(850nm or 1300nm)

Video signal specifications:
Connector BNC
I/O impedance 75 Ω
Video bandwidth 8MHz
Bit Error Rate 10-9
Video input/output voltage 1VP-P typical, 1.5VP-P Max.
Video resolution 8 bit
Differential Gain <1%
Differential Phase <0.6˚
Tilt < 0.5%
SNR >55dB
Environment:
Operating temperature -40℃ to +75℃
Storage temperature -40℃ to +85℃
Humidity 0 to 95﹪ (non-condensing)
Regulatory approval RoHs, CE, FCC class A
Transmission distance:
Twisted Pair/STP Up to 100m
Single mode cable Up to 20-100km
Multimode cable Up to 2km

Audio signal specification:(Optional)
Connector Terminal block
I/O Level 0 dBm
I/O Impedance 600 Ohms
Bandwidth 20 Hz to 20 KHz
Sample frequency 52.3KHz
Audio resolution 24 bit
SNR >80dB
Data signal specifications:(Optional)
Connector terminal block
Protocol RS-232,2-wire RS-485 or 4-wire RS-485/RS-422
Transmission speed 128Kbps

Alarm signal specifications:
Connector terminal block
Input current-driven, 500 mA max.
Output > 2.7 V on alarm,
< 0.7 V in normal conditions
CCTV over Fiber Solution

Overview
The 3.5U Converter Chassis is designed to accommodate 15 line cards of various types of line cards
for easy operation and management. The compact 3.5U height saves the space of central offices. The
redundant power system can be DC or AC to meet your different needs. The 3.5U Converter Chassis
is also equipped with a powerful fan in the central back side, ensuring your system a cool and stable
operating environment.
Features
  Standard 19-inch chassis, 3.5U height
  16 slots for installing line cards
  Supports two AC or DC redundant power supplies
  1 built-in cooling fan
  Diagnostic LED panel showing the status of the fan and power supplies
  Complies with FCC class A and CE mark
Specifications:
 Mechanical:
Dimension: 445 mm (W) * 156 mm (H) *319 mm (D)
Weight: 6.5 kg (not including power supplies and line cards)
 Environmental:
Operating temperature: 0℃~70℃
Operating humidity: 10%~90% (non-condensing)
 Power supplies:
AC: 100~250 VAC 50~60 Hz input
DC: Input: 18~56 VDC input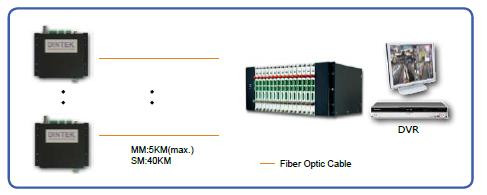 Contact Person: Mr. Frank Huang
Mobile : 0988-238-989
email: frank88.huang@gmail.com