GSM Remote Guardian
IT Environmental Monitoring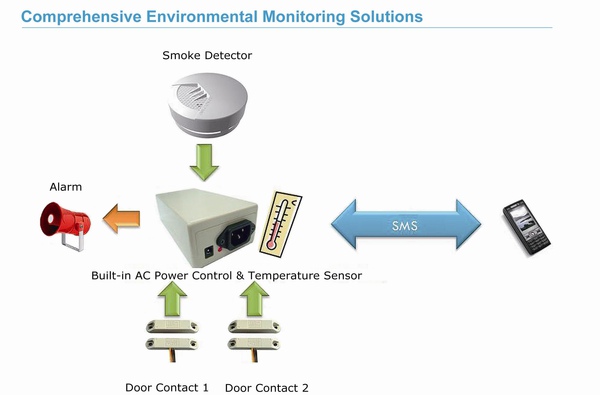 Introduction
Remote Guardian is a Total-Solution Control Panel which is able to control A/C Power On/Off,
Temperature Detection, Wired-Input/Output Detection (including Door Contact, Smoke Detector,
and Alarm Detection) Remotely via mobile phone.
Feature
Industrial Design:Operation Temperature range: -20℃~+55℃; can be up to -40℃~+85℃ upon request.
Stabilized-system: With usage of ARM frame,operation is more efficient and stable.
Backup Power: Built-in with Lithium battery, status can still be viewed when AC power failure.
Convenience:Operation commands can be easily stored in personal cell-phone via SMS format for convenient use.
Simple Reporting Message: Reporting via SMS for easy-reading and -understanding.
Efficient Management: Easy-Controlling via mobile phone, no additional equipment is required.
Temperature Control:With built-in Temperature Sensor and if the pre-set temperature is reached,
Remote Guardian is able to turn on/off A/C Power AUTOMATICALLY and report via SMS.
Security:Real-time detection and SMS reporting for Burglar/Fire Alarm prevention.
I/O Connection
[1]Green + Black wired-input: 1st set of N.O. Input for Door Contact
[2]Purple + Red wired-input: 2nd set of N.O. Input for Door Contact
[3]Yellow + Orange wired-input: N.O. Input for Smoke Detector
[4]Blue + White wired-output: N.O. Output for Alarm Detection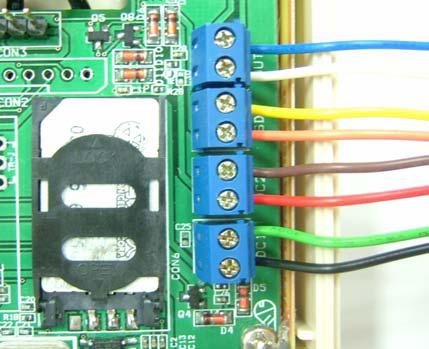 Specification
GSM Frequency:900/1800/850/1900MHz
I/O Terminal:
[1] N.O. Input for Door Contact x 2
[2] N.O. Input for Smoke Detector x 1
[3] N.O. output for Alarm Detection x 1
Temperature Accuracy:±2℃
Power supply:A/C 100~120V 50~60Hz à DC5V 2A
Backup Battery:Lithium Battery 600mAhr NP40
Indication LED (RED) x 1:Indication of GSM signal
Operation Temperature:-20℃~+55℃(ETSI Class A)
-40℃~+85℃(ETSI Class C)
Max Controllable Power:A/C 120V 10A、250V 7A
Dimension:168mm x 80mm x 43mm
Weight:270g
Contact Person: Mr. Frank Huang
Mobile: +886-988-238-989
Email: frank88.huang@gmail.com